Physical Security Vulnerability Assessments and Penetration Testing for Residential, Commercial, Government, and Industrial Clients in Edmonton, Calgary, and Red Deer.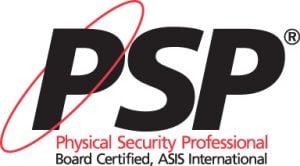 What is an ASIS Board Certified PSP and how can North Central Process Service's security consultant help you meet your organizations physical security objectives?

Physical Security Professional (PSPⓇ)
The Physical Security Professional (PSP) has demonstrated knowledge in physical security assessments, application, design, and integration of physical security systems, and implementation of security measures.

ASIS PSP KNOWLEDGE DOMAINS

Physical Security Assessment
1. Develop a physical security assessment plan.
2. Identify assets to determine their value, criticality, and loss impact.
3. Assess the nature of the threats so that the scope of the problem can be determined.
4. Conduct an assessment to identify and quantify vulnerabilities of the organization.
5. Perform a risk analysis so that appropriate countermeasures can be developed.
Application, Design, and Integration of Physical Security Systems
1. Establish security program performance requirements.
2. Determine appropriate physical security measures.
3. Design physical system and prepare construction and procurement documentation.
Implementation of Physical Security Measures
1. Outline criteria for pre-bid meeting to ensure comprehensiveness and appropriateness of implementation.
2. Procure system and implement recommended solutions to solve problems identified.
3. Conduct final acceptance testing and implement/provide procedures for ongoing monitoring and evaluation of the measures.
4. Implement procedures for ongoing monitoring and evaluation throughout the system life cycle.
5. Develop requirements for personnel involved in support of the security program.
20 years of first hand experience in all aspects of physical security including:
Government - Transit Protective Services Special Constable

Correctional - Correctional Services Worker, Correctional Officer

Armed - CIT Armed Guard and Driver

On Site Emergency Response - Oil Sands Security Patrol/ Ambulance


Commercial - Retail Plainclothes and Uniformed Security

Industrial - Critical Infrastructure Uniformed Security

Airport - Operations and Services Security Coordinator.


Residential - Unformed and Plainclothes Security and Close Protection for Property Management Companies and Residential Landlords

Direct security related education from reputable institutions:

BCIT - Crime and Intelligence Analysis

MacEwan University - Police and Security Program, Security Major


NAIT - Systems Security

Justice Institute of British Columbia - Emergency Management and Incident Command

Lockmasters Security Institute - Covert Methods of Entry (Locksmithing)

Edmonton Police Service - Alternative Measures Program, Cooperative Policing, CPTED (Crime Prevention Through Environmental Design) Level 1

Our Physical Security Professional has been a member of the NATO Allied Command Transformation Innovation Hub since 2014 and his unique approach can help your organization tackle group-think, data-free decision making, sunk cost and ideological rigidity, and other cognitive biases with respect to your physical security posture.

NATO ACT Innovation Hub


- Strategic Foresight - 2014


- Cyberspace Awareness, Human Behaviour Aspects and Blockchain - 2017


- Pandemic Challenge - DTEx Disruptive Technology Exercise with Johns Hopkins University - 2020


- Critical Thinking Pilot Course - 2022