1 (877) 919-0904 North Central Alberta Family Law, Civil Law, and LandIord/Tenant Investigations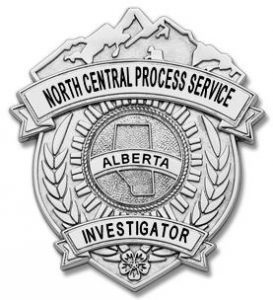 North Central Process Service is a licensed Investigation services provider through Alberta Ministry of Justice and Solicitor General and is authorized under s. 2 of the Security Services and Investigators Act (SSIA) to undertake covert methods of determining the activities, conduct, character or repute of a person or organization. In accordance with s.2 of the Act, only licenced Investigators can be provided renumeration to determine the whereabouts of an individual.

SECURITY SERVICES AND INVESTIGATORS ACT

Investigators

s.2(1) No person may, without a licence to do so, for remuneration, investigate, conduct surveillance activities or seek or obtain information about (a) crimes, offences, contraventions of enactments or misconduct, or allegations of crimes, offences, contraventions of enactments or misconduct, (b) the cause of an accident, incident, property damage, personal injury or damage to premises, (c) the activity, conduct, character or reputation of a person, (d) the location of property, or (e) the whereabouts of a person.
North Central Process Service provides specialized licenced Investigative services in support of filed court actions and orders

We are able to conduct searches to preserve evidence under the authority of an Anton Piller order and under the guidance of Lead Counsel. Our lead Investigator has first hand real world experience in search and seizure under an Anton Piller order as a Civil Enforcement Bailiff for a major Edmonton law firm.

Our lead Investigator has real world first hand experience assisting the Government of Alberta Executive Branch on a Sub Rosa basis with a domestic terrorism matter.

Attachable Asset Searches*
We can help you locate secured or attachable assets in relation to a civil claim, divorce, bankruptcy, child custody, or child support matters in support of your filed court action. Our lead Investigator is an experienced former Special Constable and Collections Officer with first hand experience in high value accounts including CMHC and Canada Student Loans and field experience in the search and seizure of undisclosed and hidden assets as a Civil Enforcement Bailiff under contract to Canada Revenue Agency and for a major Edmonton law firm.

Surveillance - Civil, Landlord/Tenant, and Family Law Claims
Do you require supporting evidence to aid in the execution of civil process in a Civil, Landlord/Tenant, or Family Law action? Our SSIA Licenced Investigators who have Surveillance Officer, Special Constable, Correctional Service Worker, Community Peace Officer, and Civil Enforcement Bailiff experience can support you in the collection of evidence through the use of Video Surveillance, GPS tracking*, and OSINT in support of your filed court action, and can present their findings in hearings in order to allow you to effectively execute your claim.
*All Investigations are carried out in accordance with applicable legislation including the Consumer Protection Act and relevant case law with respect to privacy of the subject and/or third party information collected during the scope of an investigation .
Why choose North Central Process Service for your firm's investigative needs?
Actual reputable and direct real world experience including:
Government of Alberta - Correctional Services Worker, Surveillance Officer, Civil Enforcement Bailiff.

Equifax Canada - Collections Officer.
City of Edmonton - Protective Services Officer (Special Constable) and Security Control Room Operator.
ATCO Frontec Security Services - Operations and Services Coordinator.

NATO ACT Innovation Hub - Strategic Forecast 2015, Cyberspace Awareness Workshop - Human Behaviour Aspects and Blockchain (2017), Pandemic Challenge 2020 - Disruptive Technology Experiment (DTex), and Critical Thinking Pilot Course 2022.

Client base of 500+ Canadian and International Law Firms and Government Agencies since 2012.


Relevant directly related post secondary education from accredited reputable institutions including:
MacEwan University - Police and Security Studies.

Northern Alberta Institute of Technology - Systems Security.
British Columbia Institute of Technology - Crime and Intelligence Analysis.
Justice Institute of British Columbia - Incident Command and Emergency Management.

University of Toronto - Internet Competitive Intelligence.
Lockmasters Security Institute - Covert Methods of Entry.
Experienced. Operationally Proven. No Games and No Gimmicks.
Contact Us Today